Free Chat (I'm On Cam… Now What? Pt 1)

I'm set up, signed up and ready to start working. I'm dressed to the extent that I wish to be, I'm wearing my favourite makeup and I'm logging on. I'm turning on my webcam. I'm on cam. Now what?
Part 1: Free Chat
This is where it all begins. It's like fishing, only you are the bait. Hm, bad metaphor. lol.  Free chat can be a waiting game depending on the traffic, but as a new model the traffic should be pretty decent. After all, you're fresh and juicy like a worm. I should probably drop this metaphor.
This is your chance to reel them in and get them hooked on you. OK I'm stopping.  You're seeing screen names pop up in your chat room. Some will silently observe to see how you interact with others. Some might engage you and ask a few basic questions.
Typical First Interaction
Visitor: Hi bb hru?
You: I'm good thx hru?
Visitor: Good ty, where are you from?
You: (Answer depending on your comfort level, but generally don't go beyond stating a state or province, possibly a major city if you want, but I'll talk more about this in an upcoming article)… u?
et cetera
…

Visitor: What do you do in private?
Pause. You should be open when writing your bio page. List a few things that you are comfortable with. List whatever comes to mind that you would not be comfortable with.
When a member asks this question in free chat, you can:
a) refer him to your bio,
b) answer with a few examples, or
c) answer with a question.
Let's say you go with option C.
You: I'm new here so I'm not really sure yet. What would you like me to do for you in private?
Visitor: I like X bb, will you do that for me?
a) Sure, that sounds fun!
b) I've never tried that before but I'd be willing to give it a try for you if you'd like.
c) Sorry, but that's not something I do. What else do you like?
d) I'm sorry but that is against the rules on this site. I don't want to get in trouble.
Speaking of Rules
Make sure that you are familiar with the prohibited acts on the site you choose. They differ from site to site, but the one I work on is easy:
No weapons, violence, wax or blood
No vomit, urine, feces, fisting
No foreign objects for penetration – stick to fingers and sex toys
No animals on cam (pets)
No acting underage
Pretty straightforward and easy to remember. If it helps, totally write the rules on a sticky note so you can refer to them during your first few days on cam.
When you're not discussing show options with potential clients, you're getting to know your potential clients.
This is how you gain loyal followers who will come back and visit whenever they can. It doesn't mean they will always spend money, but they will become attached to you on some level, so friendly interaction and being yourself is an investment that will pay off in future sessions.
In free chat you have the option to type or talk.
This is totally up to personal preference.
A lot of members love to hear the model using her voice as it is one of those things that makes them feel like they're getting to know her. A lot of members don't have audio for one reason or another, and therefore prefer the model to type.
Experiment with this on your own to get a feel for what works for you and your customers. I personally alternate, and often do a bit of both typing and talking.
The purpose of free chat is to introduce yourself and get members interested in you. If they like you, they might pay for your undivided attention.
Some members may try to abuse free chat
and here's where you gotta be the boss. You run your chat room, and you decide what kind of atmosphere you want to maintain. I recommend a lighthearted and flirty kind of mood. It gets them turned on but not too turned on.
When a member deviates from what you have in mind for free chat, feel free to give a warning. Examples:
"I only talk about that in private because I'm shy out here."
"I am really horny, but I don't want to talk about it. I want to do something about it in private."
You're maintaining order, hinting that the member should take you private to engage in that way, while not seeming desperate for that paid session. Desperation is a major turn off that will have them running for the hills if they smell it on you. Keep it light, keep it flirty, keep it seductive.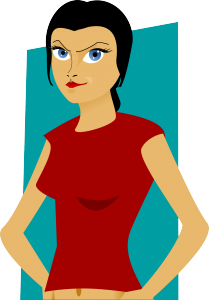 Don't hesitate to ban unruly members! There's no need to tolerate any disrespect or drama. Get rid of those members and better ones will replace them.
Answering questions about your show is perfectly reasonable. A "sneak peek" or "preview" is absolutely not.
The only exception here is if the member does tip you in advance of such a request.
So that's the gist of free chat. We'll talk more about tips and requests in Part 2 of I'm On Cam… Now What?, followed by the bread and butter of your time on cam in Part 3 – the private session.
Keep reading!
As always, I'd love to hear from you if you have any questions, comments or feedback. Feel free to post your thoughts!