What Do You Do? (Sex Work In Society Pt. 3)

…continued from Part 2: To Tell or Not To Tell
My boyfriend and my closest friends know what I do for a living. As for everyone else, I post ads and run white label sites for a couple of online entertainment networks. If asked, the sites promote adult entertainment.
I asked the community at WeCamgirls how they answer the question:
What do you do for a living?
Here's what they had to say.

DangerCakes
"I have come out to people close to me about what I do. While my parents were mad, my sister and my friend didn't care. I was starting an account at a new bank and they asked what I do; I told them I am a model. I didn't specify which kind but I only said model because I panicked!

My husband tells his friends that I work from home for Apple and I do troubleshooting (which doesn't sound too shabby actually lol). It's just specific enough to make sense and just vague enough to keep people from being nosy. I liked my husband's answer so I just tell people that."
JoyKitten
"I tell people I'm an online concierge (It's a real thing).  I've got an entire back-story (just as I do for guys asking about my 'real' life). Since the online concierge is a global business, sometimes I'm called upon to work weird hours because of what's going on in the rest of the world – such as holidays other countries celebrate, but we in the USA don't honor.

The only downside will be if someone wants info on how to become an online concierge too! Guess I'll have to say I was 'recruited' by a friend, that it's not a job for just anyone. LOL


I make a point of changing the subject about my career as quickly as I possibly can!" 
Indigo
"Well, since I only do this on the side for extra money I tell people what I actually do for a living (I'm a cook).

My close friends and co-workers know exactly what I do on the side, though. I'll tell others on a need-to-know basis." 
SweetSavage
"I usually say I'm in new media entertainment and marketing, which is true enough. I haven't really told my family yet. If they ask I would tell the truth but for now it's simpler to just say new media."
Thanks WeCamgirls!

What do you do for a living… officially? 
When it comes to official business like applying for a bank account or filing taxes, you won't usually need a cover story. It's simple:
Job Title:
Independent Contractor
Industry:
Sales or Customer Service
Employer:
Self
Employer's address:
Your address, or the address you work from.
Income:
Provide your average or range.
Proof of Income:
We don't get pay stubs, but bank statements are easy enough after you've deposited a few checks.

At one point I needed proof of income for official business and 5 Points provided a "Statement of Earnings" for the period of time I selected. They wrote it up on the official letterhead of their generic parent company. I'm not sure how other cam sites deal with this, but 5 Points is awesome with privacy and they really take care of their models.
If all this social stigma talk hasn't completely scared you away from trying your hand at webcam modeling, you're doing good lol.
You can answer the question however makes the most sense to you. Say it straight, omit the sex work part of the story, or be more creative – think nighttime legal secretary* haha.
*reference to Secret Diary of a Call Girl
I'll conclude with this response from a male webcam model on the VS Broadcasting network through 5 Points.
Paul
"I talk about it like any other job. When I'm asked what I do, I say 'basically I jerk off for money.'

The first few weeks I did it with a grin on my face because I kind of enjoy being that obnoxiously raunchy asshole, but now it's very casual."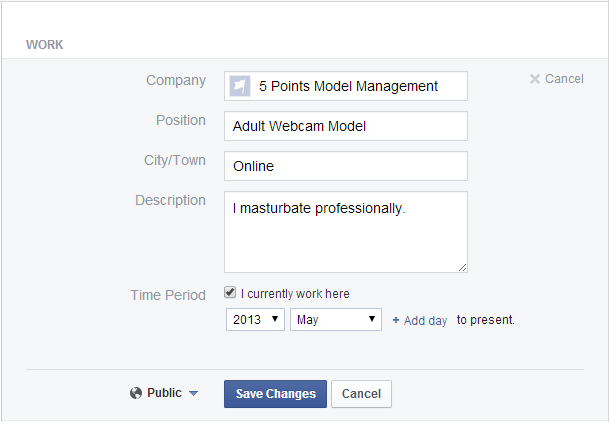 I would love to hear your ideas on this one. Hey U Camgirl – "What do you do for a living?"
Cheers!